#BNBae Fly to your heart!Romantic Butterfly makeup with BNB's products
Get ready with BNB! Today we create a butterfly makeup. Do you feel its romance and elegancy? If you are interested, follow our lovely BNB butterfly fairy and complete your own butterfly makeup.
Makeup Steps are here:
Apply foundation to create a flawless base
Outlines the shape of the eyebrows with eyebrow pencil and fills in the color, and brush the head evenly
Apply contour on the triangle area of the eye sockets and nose bridge to make it more delicate.
Apply eye shadow #02 with a fleshy pink base above and below your eyelids, while dark pink deepens the bottom of your eyes to create ambience
Creates a false eye socket with dark brown of eye shadow #04
Put on the fairy contact lenses
Put on false eyelashes and brush the lower eyelashes
Slightly stretch the eyeliner at the end of the eye and make them upwards
Embellish the head position of the eyes to make them more beautiful, and highlight the bridge of the nose with highlight #02
Here comes the lip matte! Red wine color is super beautiful with a very juicy finish
Finally, put on some cute butterfly decorations!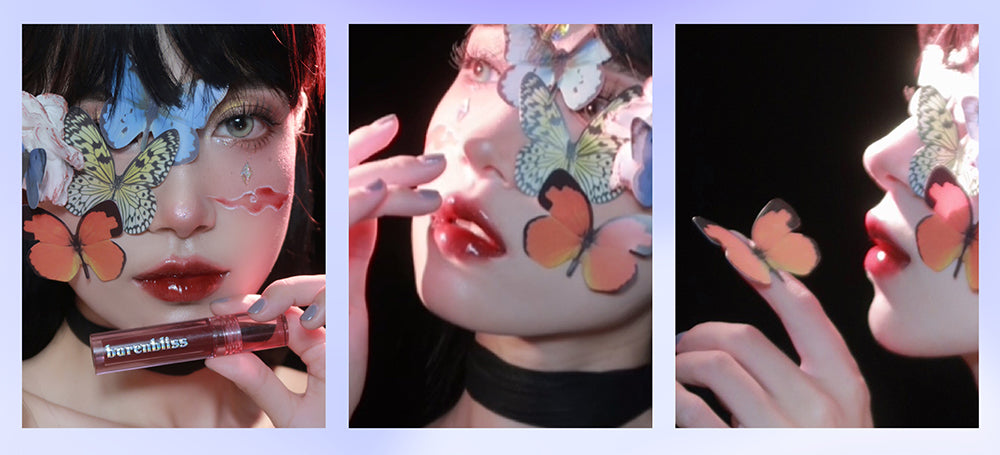 The products featured:
1. barenbliss Soul-Matte Loose Powder #01 Light Vanilla Ice
2. barenbliss Fortune Cookie Eyeshadow #02 #04
3. barenbliss Make Me Classy Eyebrow #02 Hot Chocolate
4. barenbliss Spark-Tacular Party Blush #02
5. barenbliss Berry Makes Comfort Lip Matte #05
6. barenbliss Highlight! Rich Girl in Area #02

Butterfly fairy is that you? Hope that you like it!
Continue reading